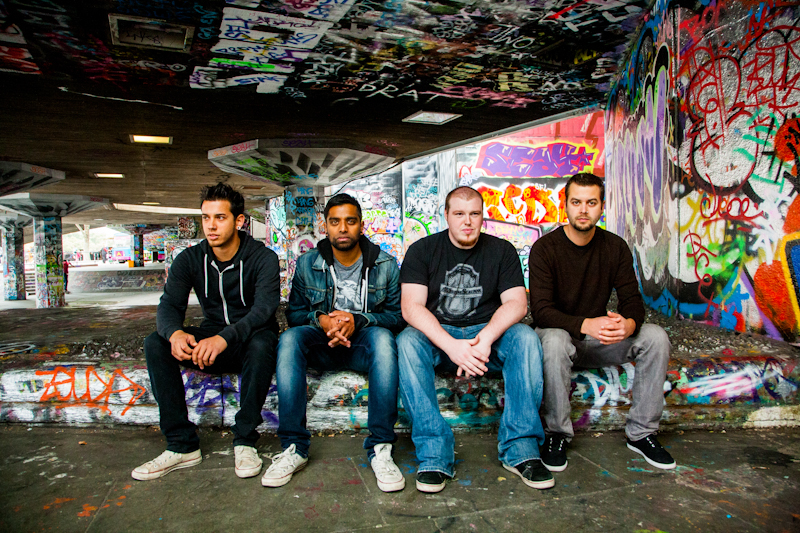 Anonymous Tip are a four piece conscious hard rock band from Twickenham, South West London. Their musical statement of intent is to blend emotive chants with fast-paced grooves, at the same time, keeping everything carefully crafted to ignite the monster inside and to provoke debate and passion.
The fast and furious tones of Anonymous Tip have been rocking venues up and down the UK since their inception back in 2002. They have made a real dent in the underground hard rock circuit as an unorthodox group of punk rockers with an ambiguous and often political message. Songs about archaic politics, confessions of nymphomania, fascism within rock scenes and their deep routed suspicion of the music industry, have helped them gain a notorious and loyal following. Their last promotional campaign gained them major airplay on radio, saw them take a powerful stance against the BNP at the last general election and secured them as the first Heavy Musical Group to become a Hologram.
They are currently putting the finishing touches to their new record "Your Resistance" which is planned for release in 2014.
The core of the band formed in a Twickenham attic. Taran, Simon, Adrian and Sanj's string of London dates, kicked off a buzz loud enough for them to get noticed by seminal punk legends, Snuff. In 2003, Snuff went on to release Anonymous Tip's self-financed and self-produced debut 6-track EP "Greetings from Wasteland" through 10 Past 10 Records and took them on a unadulterated tour around the UK with Five Knuckle, Captain Everything and of course, the mighty Snuff.
Adrian (Guitarist): "It was really strange, one day we were playing a tiny club in Brentford and the next, we were playing to a over a thousand people opening up for one of the best punk bands in the world"
The EP SOLD OUT – over 2,000 copies – and was released in other territories, where it sold well too, especially in Japan, where the band built up a cool following. In fact, another Anonymous Tip track, 'I Can't Skateboard', was included on a Japanese Punk Compilation album, "Story Of Three Tails", alongside artists like Ten Foot Pole and Frenzal Rhomb.
On the back of the success of the 6-track EP and the band's defiance to submit to the norm, they started to get noticed more and started to support The King Blues and Enter Shikari. This helped them to build their live prowess & show that Anonymous Tip had become an awesome live band, spreading a strong, word-of-mouth buzz that accredited & welcomed them into the Underground rock scene.
The start of 2006 saw the departure of Anonymous Tip's long time bassist and friend Simon. However, new recruit, Chris Brazier, helped take the band to the next level with his 6 string bass creativity, adding a new twist to the hotly anticipated full-length album, 'Not your Orthodox'.
2007 was a great year for Anonymous Tip. Early mixes from the new album "Not Your Orthodox" helped them to gain a newfound fan following that is built upon their status on the UK rock circuit. So much so, that Visual Director Adam Kaleta, (MTV, Jackass etc) used their music on a pan-European, five-part terrestrial television show to document Nissan's Urban Challenge event.
Radio 1, XFM, 6 Music, & Total Rock support kicked off Anonymous Tip's campaign for 2008 in the buildup to the release of the  band's debut album, "Not Your Orthodox", which was released on Triumphant Sound in December 2008. The Twickenham based 4-piece celebrated the release of their first three singles for 2008, "Polemic To The Suits", "Mouth Of The Sufferer" & "Word of One" with strong support from radio. The radio play of "Polemic to the Suits" by Radio 1's Mike Davies, 6 Music's Bruce Dickinson and winning XFM's Rock Show 'Heat seeker' slot exposed the band to a new audience. "Mouth of the Sufferer" was also playlisted at Total Rock and music channel Video C added the video to its Rock Channel.
The strong support from radio and hot reviews from tastemakers Subba Cultcha and Music Week for "Not Your Orthodox" and strong support slots with great bands like Propogandhi and Strung Out paved an exciting path for Anonymous Tip's future.
Monday 12th April 2010 saw the release of 'The Weirder Brave', which was a polemic statement of frustration at the rise of media coverage for the British National Party at the end of 2009. Anonymous Tip took it amongst themselves to write, record and release this pro equality song before the British General Election after seeing the BNP leader Nick Griffin on the BBC show Question Time.
Sanj (Vocals): "My best friend was picked on at school because he was white and I was brown. The shops in our high street used to have huge racist slogans painted on them calling all brown people obscenities and infestations. Young and old people had to hold their heads high in the face of such provocation. This song is about those people who dealt with this then and for those that are dealing with it now"
"The Weirder Brave" got lots of positive press in the UK including a cultural write up from The Independent which made enough noise to be noticed by the Delhi Guardian who also wrote a huge article on the initiative. Total Guitar also put 'The Weirder Brave' at number three on their "Top Ten Guitar Tracks" to Download in May 2010.
In Autumn 2010, Musion Systems Ltd approached Anonymous Tip for an opportunity to be filmed and projected as a 3D hologram. At the time, Musion Systems Ltd had developed 3D holograms for The Gorillaz, Madonna, Christina Aguilera & The Black Eyed Peas for various performances around the world including The Grammys. This partnership helped Anonymous Tip to become the first Hard-Rock act to be projected as a 3D hologram. The partnership between the band and the company led to members of the band working closely with technology. Sanj was asked to become Musion's "Head of Music" at the beginning of 2011 where he worked on many projects.
June 2013, Sanj and Adrian worked on a digital resurrection hologram of the late Brazilian musical legend "Renato Russo" for the cultural opening of the World Cup Stadium in Brasilia.